Pictures from Camp 2002

The girls made centerpieces for lunch and dinners. Each group had a chance to make one. They could use anything they found in nature as long as they didn't pick anything live. Yes this mini pear I found on the ground :) Some of the other centerpieces included locust shells very imaginative!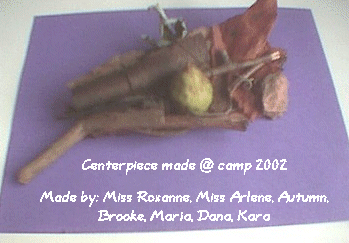 Group Craft: Rainbow Magnet



Swaps our troop made:


Swaps from troops 368 & 1491: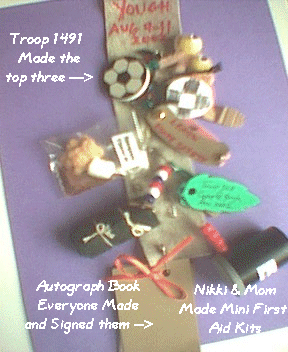 Notice: Graphics, photo's and writings © Roxanne Beer 2002. They are NOT available for download, and are not to be used in any form unless otherwise noted. My personal time, heart and soul went into this work. Please respect my wishes. Thank you.
Some photo images used on my site: © " 'Girl Scouts' and other GIRL SCOUT Trademarks are registered trademarks of Girl Scouts of the USA and are used herein pursuant to license."